Bike recycling program moves up a gear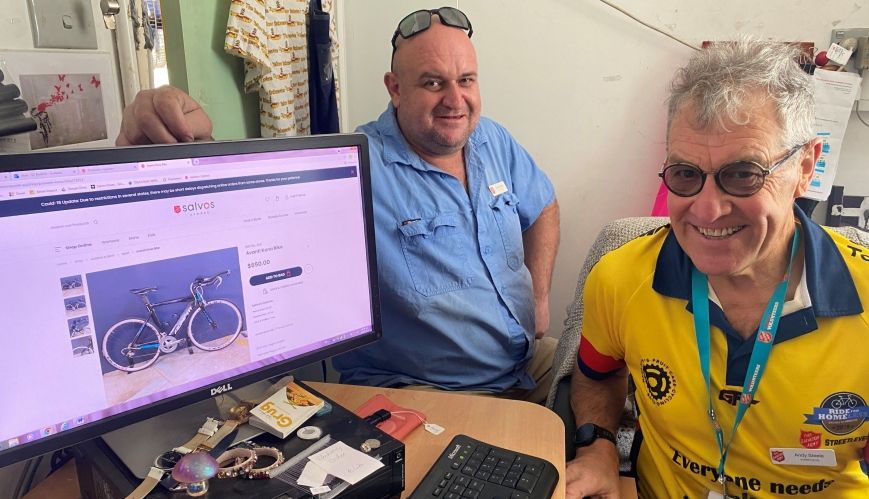 Bike recycling program moves up a gear
8 September 2021
Salvos Re Cycle Bikes program coordinator Andy Steele (right) and workshop mechanic Damien Saal check out one of the bikes for sale online.
By Darryl Whitecross
The Salvos Re Cycle Bikes program at Red Hill in Brisbane has gone high-tech – in a couple of different ways.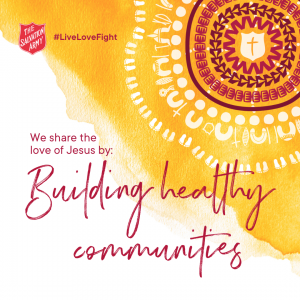 Program coordinator Andy Steele said the bikes had only been available from the adjoining Salvos Stores outlet, but recently the more expensive and sought-after brands were being sold online.
Although the workshop was working hard to keep up with demand, Andy said selling the better bikes online was a natural progression. He said this complemented the showroom sales where there was a continual turnover: "I try to keep a good selection in the shop."
The bikes also sold well at the quarterly market days in the Salvos Stores carpark. "We just sell and sell and sell," said Andy, who sold the program's first unicycle during this interview.
The workshop not only restores bikes to sell in Salvos Stores but has begun a repair and maintenance service to the public. The program had also begun converting conventional bicycles to electric using conversion kits bought in Melbourne.
Financial advisory and consulting company Deloitte Brisbane recently held an open day and auctioned off some of the bikes as a fundraiser for the program. Andy said Deloitte had facilitated discussions and workshops to help the program move to "the next level" with improved reporting systems, a framework for expansion and an increased social media presence.
Fixing lives
Workshop mechanic Damien Saal has been employed part-time by the Army since the Salvos Re Cycle Bikes program began. He began a Certificate III at TAFE in Bicycle Workshop Operations in August.
A former addict, Damien recently celebrated two years of sobriety. "Damo now picks up bikes from the police rather than police picking him up about bikes," Andy said with a proud chuckle, adding that the workshop regularly received donations from retail outlets and Queensland Police Service.
Andy said as well as giving bicycles a new lease on life, it was also about giving people that same second chance, such as Damien.
Andy said a relationship with Brisbane Recovery Services Centre (Moonyah) had grown, with clients from the centre doing shifts at the bike recycling program. Several community members also volunteered their time, including cyclists from the Nanna Fitty's Fruit Cake Cycle Club – a group based at Carindale Corps in Brisbane's south.
Andy said "word of mouth" continued to be the main way the community heard about the program, but several media interviews had also helped. A large banner is being prepared to be put on the fence at the front gate to the property to promote the workshop, which is open Tuesday to Saturday each week.