EVERYDAY SALVOS: Bayside couple blessed to give back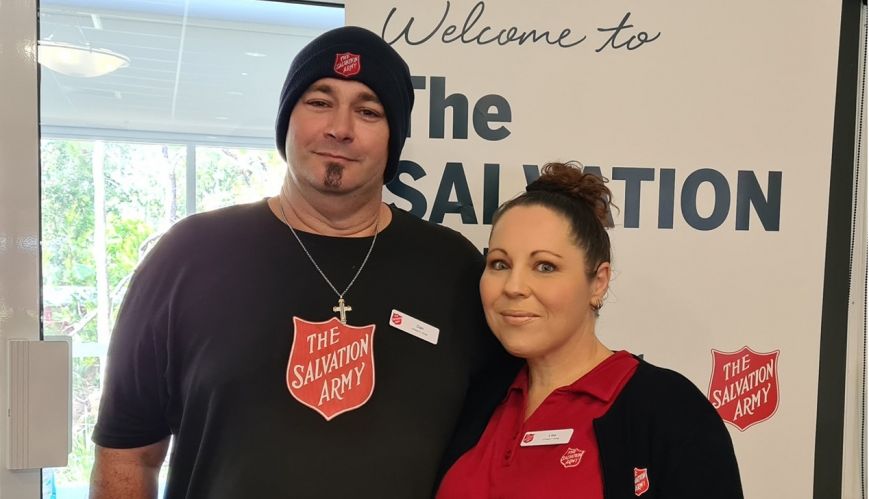 EVERYDAY SALVOS: Bayside couple blessed to give back
21 September 2021
Daniel and Lisa Rylance, of Bayside Corps, are committed to serving the community that once served them.
By Darryl Whitecross
Dan and Lisa Rylance had been receiving assistance from Brisbane's Bayside Corps for some time, but the big turning point in their lives came when they attended a worship service.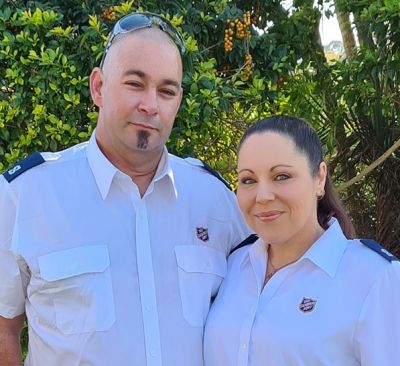 Dan and Lisa Rylance are the newest senior soldiers of the Bayside Corps in Alexandra Hills in Brisbane's eastern suburbs.
"We walked through the doors in January 2016 and never left," Lisa said. "We jumped straight into church life and learning about Jesus and Christianity, having been unbelievers until that point."
Their first taste of ministry was being involved in the Kmart Wishing Tree Christmas Appeal. "We wanted to give back to the very community that had helped us in our time of need," Lisa said.
From there, their involvement in corps life grew, and last month the couple were sworn-in as senior soldiers by Corps Officers Captains Natalie and Scott Frame.
Dan and Lisa are now involved in many corps ministries, including the Salvos Connect team, but the Kmart Christmas Appeal is the big winner. The annual appeal is a real family affair involving the couple and their nine children – Grace, Hunter, Bailea, Emmerson, Kainne, Amber, Oliver, Tallen, Xavier. They do "everything" from sorting toys to packing hampers and distributing them.
"We love being a part of ministry and serving others," said Lisa, who is also on the corps worship team. "Being part of the Salvos Connect team is probably one of the most humbling experiences. We get to connect with our community and build relationships."
Dan also is part of the corps Creation Care Ministry, which he says, "is about loving and looking after God's earth". "I cut back on one day a week in my business to give back and do God's work," he said. "People knew me before I became a Christian as 'Dan the Family Lawn Mowing Man', but I rebranded the business to 'The Lawn's Salvation' to reflect my life change."
Lisa also helps distribute Salvos Assessment Line (SAL) cards while Dan helps with the Second Bite ministry, which collects unsold supermarket fruit and vegetables to distribute to the vulnerable in society. Second Bite is open at Bayside each Friday.
Conversation and connection
"We both get to engage and connect with our community members through conversation and learn more about their situations and experiences," Lisa said. "I guess if I had to say what the rewards are, for me it's just knowing that, for those few moments that I spend with someone – the conversation I had, the connection we made – for those moments, I helped make their day that bit brighter. You get a sense of joy."
Lisa said she was a person who was rarely lost for words, and the challenge for her was to be more of a 'listening ear'. "It's those crucial moments where what you say is super important, and I don't want to mess that up. I have to remember to believe in myself and trust that God is with me in that moment," she said.
Being able to volunteer at the corps had given her a sense of purpose, a belonging – "I was not sure what direction I wanted to go in until I started to volunteer. I love what I do. I love engaging with the community," she said, adding that she had been inspired to begin studying for a Certificate III in Community Services at TAFE.
Stronger together
Lisa said being part of the Connect team with Dan had been "a growth experience" – not only as individuals but also as a couple: "We have become stronger together in our marriage because we are growing in our faith. We still have a lot to learn [but] there is always opportunity to reflect and grow."
Dan said he was blessed to see people thankful and happy for not only the food or help they received but also the conversation and connection they made: "For me, volunteering is just a selfless act of giving. We don't volunteer because we feel obligated. We do it because we want to. I look forward to it each week."
Dan said it "warms our heart" when someone comes for assistance and says they do not want to talk and "an hour later they thank you for sitting and listening to them".