Celebrating our older people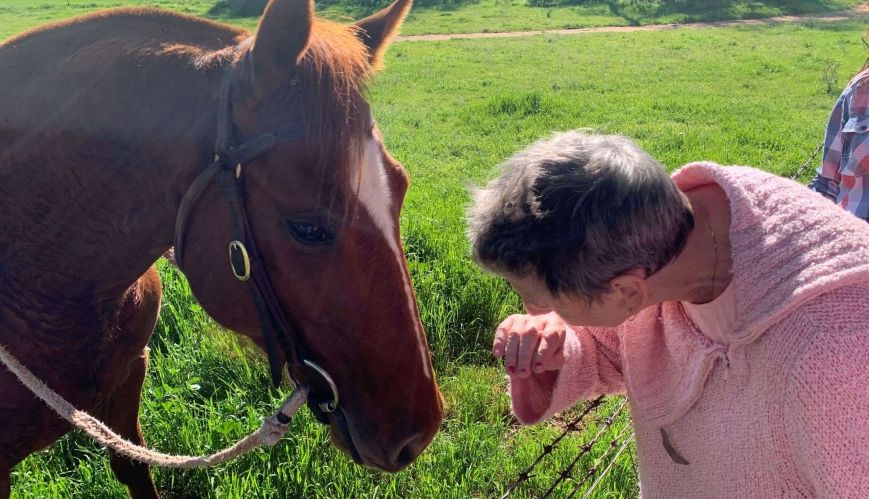 Celebrating our older people
22 September 2021
A resident at Moyne Aged Care Centre (NSW) enjoys time with a friend.
By Simone Worthing
The Salvation Army Aged Care promotes a unique experience of choice, lifestyle and belonging for all people as they age. Its services span Australia with 21 residential aged care centres, seven retirement villages, one respite centre, and various community care services.
These services offer support for seniors in different stages of life, whether it's help in the comfort of their own home, enjoying a maintenance-free lifestyle in one of the vibrant retirement communities, or requiring 24-hour care in one of the residential care centres. Below, we look at two centres – Moyne Aged Care Centre in Western NSW and Weeroona Village in Sydney.
---
Moyne Aged Care Centre
"Our aged care services are designed around the needs of our residents and making their lives as happy and purposeful as possible," says Melissa Delaney, Lifestyle Coordinator at The Salvation Army Moyne Aged Care Centre at Canowindra in NSW's Central West.
"My role is to provide a stimulating, engaging and fulfilling program in both the Memory Support Unit, which is designed to meet the needs of those living with dementia, and in our mainstream area."
The Moyne Aged Care Centre has the capacity for 68 residents.
Melissa says residents take each day as it comes in the Memory Support Unit. "We try to keep the unit as homelike as possible and encourage our residents to use skills they learned long ago to help keep them stimulated and prevent them becoming confused," she says. "This can include daily tasks like washing-up and folding laundry, playing games, enjoying music, and looking after our pet rabbit, Gretchen."
Getting outside for daily exercise is also a regular part of the residents' day, with lockdown making this even more important. Melissa and her team escort the residents for walks in the local area, where they enjoy seeing cows, horses and even bison in surrounding paddocks. Residents from the centre's mainstream area join these walks.
"Lockdown is taking its toll on our residents, with many of them now realising that their families have not come to visit lately," says Melissa. "We are their family at the moment, so we're trying to keep them stimulated and replace, as much as we can, what they are missing out on. We are developing stronger bonds with them, which does help. It's hard for us all to understand and deal with what is going on, and it's even harder for our residents."
All residents have their own bedrooms. The main dining areas and activity rooms are shared spaces.
The residents in the mainstream area and Memory Support Unit regularly interact through activities suitable for both groups and when the mainstream residents come up to visit.
"We are seeing a younger cohort in our Memory Support Unit residents," Melissa shared. "There are more people in their 50s and 60s coming in from all walks of life. It doesn't matter who you are, what you've done for the world or your financial status, dementia is no respecter of persons. We are also educating our mainstream residents about dementia to increase their understanding and acceptance of everyone."
During Dementia Action Week (20-26 September), The Salvation Army Aged Care centres will be running COVID-appropriate activities and events. At the Moyne Aged Care Centre, this week coincides with the now-cancelled Canowindra Show. "We will have our own mini-show, complete with balloons, sideshows and activities, even though families won't be allowed in," says Melissa. "Staff will dress up, and we'll even be having Dagwood dogs and fairy floss."
Other special events, such as lunches and morning and afternoon teas, will also take place in the various centres for International Day of the Older Person on 1 October.
"I've been in this role for 19 years now, and I just love it," says Melissa. "My father was 60 when I was born, so I grew up with an elderly father and related to older people. People tend to forget that the elderly are people with a life, a story, with skills to pass on and are still central to the community."
---
Weeroona Aged Care Centre
"Older people can be an inspiration to younger people," said staff at the Weeroona Aged Care Centre. "They can share their experiences, wisdom and be there to encourage others in the community."
This Salvation Army centre in Sydney ensures its residents live a vibrant and purposeful life in a caring and comfortable environment. The centre features a range of facilities and activities for its residents, including bus outings, a cinema and Ecumenical Chapel and Catholic Mass services.
There are also many groups that residents can join, including those for gardening, board games, walking, knitting, craft, 'down memory lane', carpet bowling, snooker and sing-alongs around the piano. Some groups are not operating due to the internal Level 5 restrictions but will recommence when restrictions go back to Risk Level 4.
Additional services now include online shopping and video calls to family and friends.
Staff have a special day planned for International Day of Older Persons. "We plan to celebrate the day with a barbeque and pizza lunch," they said. "With the beautiful garden grounds, residents and staff always enjoy a tasty meal and chat around the barbeque. Once the onions are sizzling, the senses are heightened, and voices engage."
The day's theme will be 'Retro', where both staff and residents can dig out their favourite 60s fashion for some fun and laughs. The Lifestyle Team at the centre will engage in making headbands as one of the activities. There is a sing-along planned with hits from the 60s and armchair travel on the big screen.
If the centre cannot hold the event on 1 October due to the COVID-19 restrictions, the event will take a raincheck and will happen later.
"This is a great day to celebrate because of the contribution older people have made to society," the staff said. "It is important for our staff to take some time out from personal care of the residents and 'party' with them. These memorable moments improve and strengthen the relationships between residents and staff."
For more information, go to agedcare.salvos.org.au/