You are here:
Home › News › 2021 › 09 › 30 › Pandemic Delays Official Opening But Kubirri Celebrates
Pandemic delays official opening but Kubirri celebrates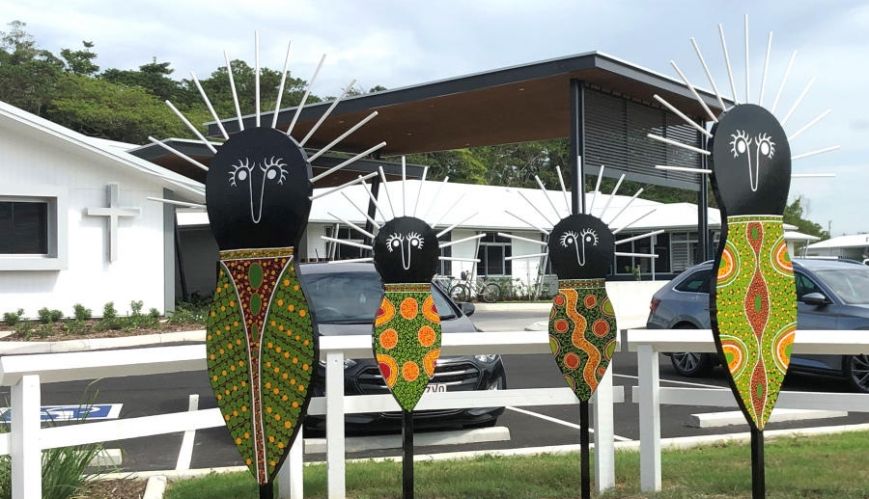 Pandemic delays official opening but Kubirri celebrates
30 September 2021
Yiki People 2020, sculpted by artist in residence at Janbal Gallery in Mossman, Brian "Binna" Swindley, was unveiled during first anniversary celebrations at The Salvation Army's Kubirri Aged Care Facility in Far North Queensland. 
By Darryl Whitecross
The Salvation Army's 21st aged care centre in Australia – Kubirri in the Far North Queensland town of Mossman – celebrated its first anniversary last month despite not being officially opened.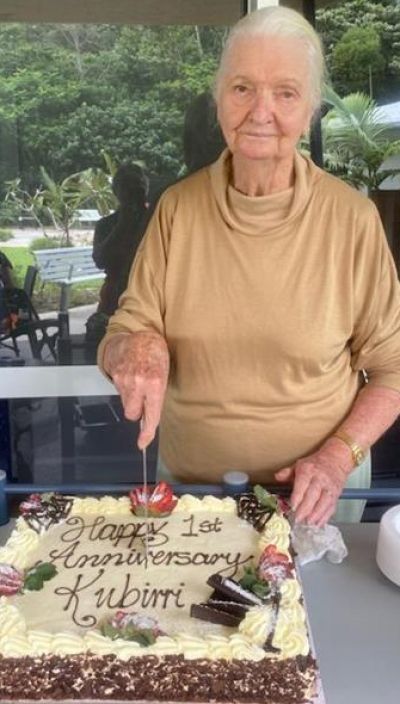 Dawn, one of the first residents of Kubirri Aged Care Centre, Mossman, cuts the first anniversary cake.
Carrol Scarfe, the Army's Aged Care Operations Support Manager, admits the COVID-19 pandemic has impacted many services across the territory. When Kubirri Aged Care Centre opened its doors in mid-2020, COVID-19 restrictions prevented dignitaries from travelling to the region for the occasion. Complying with these restrictions, as well as wanting to keep the local community safe, meant the decision was made not to have an official opening. However, one year on, residents and staff did not want to let the milestone pass by without a celebration.
The festivities included a smoking ceremony, morning tea, the cake cutting and barbecue lunch. A highlight of the anniversary was the unveiling of specially-commissioned artwork, 'Yiki People 2020', sculpted by traditional owner Brian "Binna" Swindley, artist in residence at Janbal Gallery in Mossman.
Dawn, one of the centre's first three residents, was chosen to cut the anniversary cake, which had been arranged through a partnership between Kubirri Chef Tim Hatton and the Woolworths supermarket in Mossman.
Carrol says it has been a challenging year, but the centre was fully occupied, and it was great to see how staff understand and appreciate the culture of the people of the area.
"We've built some really good bridges with the local community, particularly the indigenous community," Carrol said.
Janice Scelzo, General Manager Enterprise Development, Aged Care, says it was important for residents and staff to mark the centre's first-year anniversary despite COVID-19 preventing its official opening.
"The community of Mossman had been wanting this type of facility for such a long time – more than 20 years'" she says. "It's excellent that residents have now moved in and are enjoying living in Kubirri." 
Carrol says there were two main highlights of the year. One was when the centre got its own mini bus in time for NAIDOC Week. Residents decorated the bus before being taken to the NAIDOC Week parade in Mossman, then returned to the centre for a special lunch with First Nations elders from the area.
The second highlight continues to bring tears to Carrol's eyes.
"A resident at Kubirri who's been here right from the beginning had received medals for his service in World War II, but had never collected them," she says.
"On Anzac Day, his granddaughter, a serving member [of the Australian Defence Force], presented them to him at our internal Anzac Day celebration. It was a lovely surprise for him."
Kubirri Chaplain Susanne Green says the centre is becoming an integral part of the wider community.
"The work the staff have done is amazing and God continues to work through The Salvation Army to make life better for our more elderly residents," Susanne says.