60 Second Verdict:Â BlackkKlansman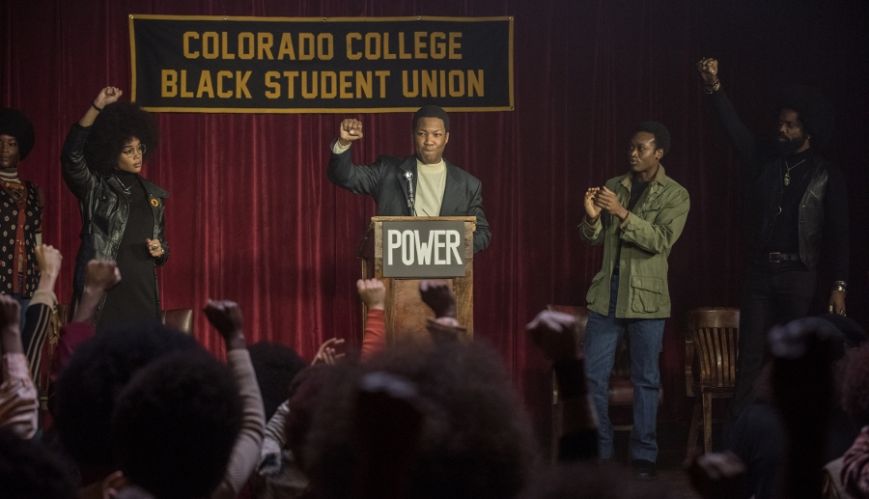 60 Second Verdict: BlackkKlansman
18 August 2018
An undercover African-American policeman gets embroiled with the local KKK chapter in BlackkKlansman.
By Ben McEachen
Based on a true story, Ron Stallworth (John David Washington) is the first African-American officer on the Colorado police force in the 1970s. Ron rapidly finds himself at the heart of a highly unusual undercover operation. Incredibly, he begins to infiltrate the Knights of the Ku Klux Klan, the controversial organisation propelled by the belief that white people are superior. Ron and his colleagues get embroiled with the local KKK chapter, as well as hook up with KKK national leader David Duke (Topher Grace).

WHAT'S GOOD
BlackkKlansman is a bitey and bizarre history lesson with some modern meaning. Director Spike Lee has spent most of his career raging against racism (Do The Right Thing, Jungle Fever) yet, with age, his attacks have become a bit more subtle. Little bit. Still, his BlackkKlansman blast is unashamedly angled at US President Trump's "Make America Great" rhetoric. Sadly, parallels are evident as Lee takes groovy but gritty jabs at the KKK, its beliefs and the incessant cesspool of inequality. The cast is right on (especially Jasper Paakonen as a frightening KKK member), the "blaxploitation" vibe is befitting, and it's hard not to feel infuriated by dark-hearted prejudice and hate.

WHAT'S NOT
Apart from the overly clever title that is such a hassle to spell correctly, BlackkKlansman lets itself down by being so vehement and one-sided. While going after the horrible racism of the Ku Klux Klan is fair game, director Lee presents the Black Power movement as if it is saintly. Even when militancy and violence is suggested within Black Power ranks, that's quickly brushed aside to get back to battering the KKK. Also, Lee doesn't give much background, expecting all of us to understand the history, legality and secrecy of the KKK. I, for one, don't have much of a clue about all that.

SPIRITUALLY SPEAKING
BlackkKlansman doesn't just blare the insult of racial prejudice. It trumpets how God, Jesus and the Bible can be disgustingly twisted to make them uphold what they DO NOT endorse. Members and leaders of the KKK pray for the "white man" to rule all, as if it's a God-given right. Scripture is wielded like a weapon without any attempt to demonstrate how such racist views have been plucked from it. Yet you only need to turn quickly to the first few pages of the Bible to see how God created men and women as equals – with no distinction made about race (or anything else). How the KKK came up with the self-serving notion that Jesus only stands for white, protestant Americans is, simply, outrageous. As you recoil from KKK racism throughout BlackkKlansman, please be sure to dump their warping of Christianity too.
Watch another 60 Second Verdict.