Ending well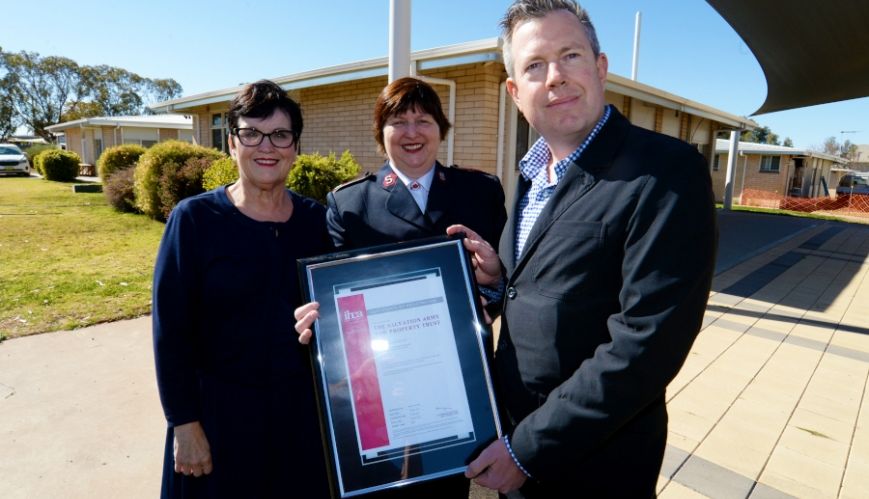 Ending well
19 November 2019
Broken Hill Mayor Darriea Turley with Salvation Army Secretary for Mission Lieut-Colonel Lyn Edge and Westhaven CEO Andrew Everett mark The Salvation Army's transition out of disability services. Photo courtesy of The Barrier Daily Truth
By Evonne Packer
"For everything there is a season, and a time for every matter under heaven: a time to be born, and a time to die; a time to plant, and a time to pluck up what is planted … a time to seek, and a time to lose" (Ecclesiastes 3:1-2, 6 – ESV).
As we approach the end of another year, I've been reflecting on the busyness of life, the numerous changes we go through and, in particular, The Salvation Army in Australia transitioning out of disability services provision.
The above verse has really spoken to me over the past few months, prompting me to think about endings, or the close of certain chapters of life. There are many teachings on beginnings as well as numerous movies and books that highlight the anticipation, dreams and investments into beginnings, but nearly not as much on endings and ending well.
One particularly insightful article by American author Jon Bloom on ending well, aptly points out that, as leaders, it's not uncommon to struggle with stepping out of leadership. Or for organisations, the struggle and emotions that come with dealing with transitions. Or in everyday life, to feel confused or experience a sense of flatness at the end of various seasons of life. I think we can all relate to that.
As the General Manager of the Army's Disability Services, I know I can. Like most of us, I don't relish thinking about or planning for endings, because endings are goodbyes, the closing of a chapter, which often makes us experience a flux of emotions and not necessarily positive ones.
My world was turned upside down when I was told about the disability services transition. I sat that night in the dark and just cried out to God: "Why was this decision made?" I didn't understand; I was angry and confused.
But then, in the early hours of the next morning, a thought came to me that I believe was from God. It was this: "I can't influence or change the decision, but I can influence how well we finish."
I committed then and there to finish well, still not knowing was ahead of me. This one particular line in Jon's article really stood out to me: "Endings are usually more truthful than beginnings."
At a beginning, when we're looking ahead, we envision a possible future, not a real one. And our vision is always some mixed bag of good and bad motives, love and selfish ambition, serving Jesus and serving ourselves.
But looking back, we see reality with greater clarity, how various factors,including the good and the bad, how our strengths and weaknesses, and how others – whether that be The Salvation Army, government, family etc – affected what we began.
As Jon continues, "A review of the day in the evening is more truthful than the caffeinated optimism of the morning's good intentions."
God will and does help us through times of transition, through endings. One way to prepare for our 'time to lose', and help others do the same, is to intentionally pray about it.
God can make our transition out of a season uniquely powerful in glorifying Jesus. It took a long time for my head and heart to come together on this decision by The Salvation Army to transition out of disability services.
My head understood and agreed, but my heart was another matter. But God is amazing. Over nine months, he stretched me and taught me. My heart has now been reconciled to the decision and I can honestly say that this decision is best.
There is a God-given time to exit every role we enter. Some endings will feel sweet and clear, some will feel bitter and confusing. Therefore, it requires a different kind of wisdom to end well than to begin well.
It demands Spirit-wrought humility and Spirit-empowered faith to trust God's sovereignty, wisdom and goodness in those transitions.
We must prepare for these moments or, better still, we must ask God to prepare us and be willing to be stretched and refined through the process.  
Major Evonne Packer is The Salvation Army General Manager of Disability Services.
Read more about The Salvation Army's decision to transition out of disability services HERE