Larrikin Bill jumps at chance to be Aussie chaplain at Paralympics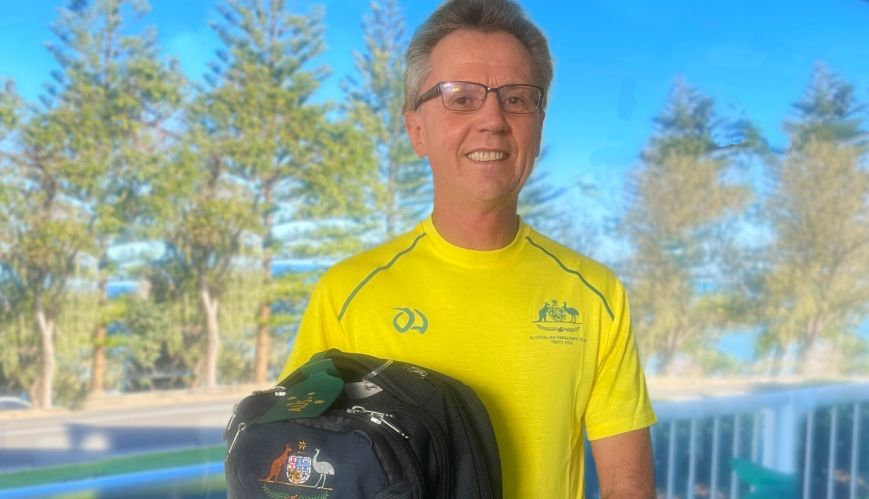 Larrikin Bill jumps at chance to be Aussie chaplain at Paralympics
19 August 2021
Queensland Divisional Envoy Bill Hunter – wearing his Australian Paralympic Games team uniform – is set to mentor, encourage, listen to and cheer on the competitors in green and gold as they compete in Tokyo.
By Darryl Whitecross
Queensland Divisional Envoy Bill Hunter is no stranger to elite sport, whether as a participant, mentor, coach, counsellor or officiating at ceremonies.
Think of any household name in Australian sport over the past 20 years, and Bill has probably had his photo taken with them – not as a fan but as a colleague, mate and confidant.
It is the latter that has Bill again mixing with elite sportsmen and women as a part of the 'welfare team' to the Australian team taking part at the Tokyo Paralympic Games with the athletics, cycling and swimming athletes – the blue riband sports at that level of competition "and where our best medal opportunities are". Essentially, he'll be a chaplain.
Again, Bill is no stranger at this level, having been "a good marathon runner" with state titles under his belt and having represented the Queensland Police Service at the 1988 World Police Olympics in Sydney and 1990 in Edmonton, Canada. He also participated in the 2000 Paralympics in Sydney and at the world championships in France as a guide runner for blind athlete Gerrard Gosen.
In terms of chaplaincy experience, he also has a good track record, having been the chaplain to the Brisbane Broncos National Rugby League team for 20 years.
Hope and a future
Bill's love of running saw him begin a leadership mentoring program – Hope and a Future – for young men and women in Papua New Guinea.
As part of that program, he and his team each year identified a group of young people from PNG with leadership potential and brought them to Australia to compete in the annual Gold Coast Marathon over the past five years.
The program has been put on ice over the past two years due to the COVID-19 pandemic.
Bill confessed that earlier this year, he had been feeling quite low at not being able to run the program, so he prayed what he labelled "a dangerous prayer – as you do" – and asked God to "give me something [to do] ... anything. I don't care what it is".
"The Lord, in his wisdom, has given me the opportunity [to go to] the Paralympics in Japan in Tokyo in August," Bill said.
As the team chaplain, Bill said that should there be any situation that developed within the team not of a physical nature, "I'll be the first port of call."
Bill said the chaplain for the team since the Paralympic Games in Sydney in 2000 had been Murray Lydeamore OAM, a friend and long-time Australian and Paralympics Welfare Coordinator at the Australian Institute of Sport and with Cycling Australia's High Performance Program in Adelaide.  
Murray and Bill met at the Sydney Games when Bill competed with a vision-impaired athlete and have been friends and colleagues since. Bill said Murray could not be part of the team in Tokyo for family reasons, so the committee needed to find a replacement.
"He (Murray) recommended me, so they rang me," Bill said. The "they" being Justin Crowe, Paralympic Australia's Head of Performance Services, who oversees the welfare team.
Murray said he had been chaplain to the Australian Paralympians since the Sydney Games and found it to be an important role. He said athlete welfare was of "paramount importance" to Paralympics Australia and that Australia was virtually the only country that had a chaplain appointed to the team.
COVID-19 restrictions on team segregation, village movement and meeting together would put more strain on the athletes this year as they would not be permitted to "move about as freely" as in past Games.
Murray said athletes would be away for a minimum of seven weeks, "putting extra strain on them and their families", which made a focus on ensuing athlete welfare more important this year.
He said Bill would be part of a three-member welfare team, which included a doctor and psychologist, who would meet almost daily during the Games to discuss issues and potential issues – such as homesickness and other personal problems.
Bill said he was looking forward to the challenge of supporting the athletes. "There are a couple of Christians in there (the team) that do it tough, so I'll be in there to help them."
Bill said that being able to support the team members in athletics, cycling and swimming, where Australia has its "best medal changes ever" is "unbelievable".
Bill is equally at home with the vulnerable and less fortunate in the community as he is with the cream of Aussie sport. Having devoted much of his adult life coming alongside the homeless, addicted and marginalised with the love of Jesus, Bill can be seen each Sunday leading God's Sports Arena, which he founded more than 10 years ago as a sports-based church for people who wouldn't feel comfortable in the mainstream church.
While Bill has stereotypical "white-line fever" when competing, he's the quintessential Aussie larrikin.
While not at the level of swimmer Dawn Fraser – who was accused of trying to 'nick' an Olympic flag from Emperor Hirohito's palace the last time the Olympics were held in Tokyo in 1964 – the Paralympians he'll be chaplain to can be assured of a good time, along with a great listening ear, excellent counsel, wise words and a fair dinkum "Come on Aussie, come on" from the stands.