On a high note
On a high note
7 June 2016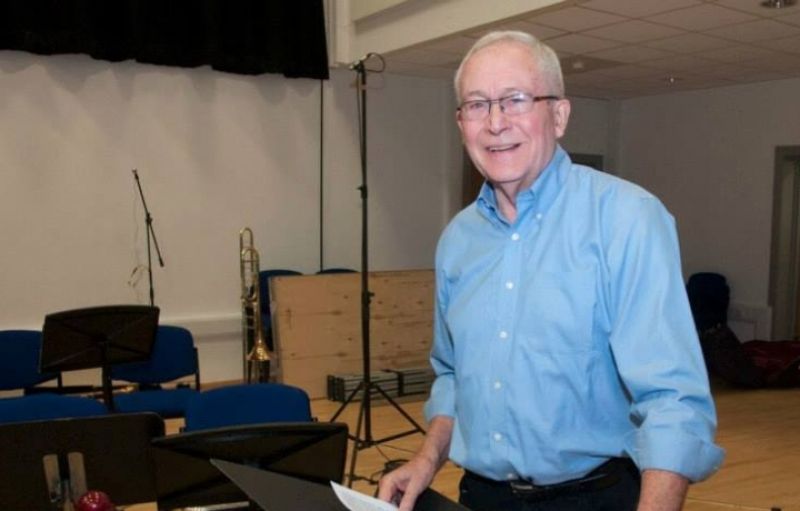 Now in his mid-70s, Robert Redhead is still heavily involved in music including writing compositions.
It was 1952. A 12-year-old Salvationist named Robert Redhead had become very ill, and was confined to his home in Manchester, England, for a month while he recovered.
Without school or corps life to keep him occupied, he turned to music to fill his days. A member of the young people's band, Robert asked his father to bring home some of the band scores from the church.
"I'd try to transpose them to the piano because I had time on my hands," he remembers. "I didn't know it at the time, but in taking a whole band score, which has 17 parts to it, and putting it into two hands on a piano, I was learning how to write band music."
Learning by doing
With more than 200 compositions to his name, Colonel Robert Redhead is one of The Salvation Army's most prolific and influential composers. Known for works such as Corpus Christi and Isaiah 40, Robert has served as bandmaster of both the Canadian Staff Band and International Staff Band, leading Salvationists around the world in worship.
Born into a Salvation Army family, Robert joined the young people's band at seven, learning the flugel horn. Seeing he had an aptitude for music, the band's leader, Derek Salt, began mentoring him and teaching him to play piano. It was Salt who suggested that Robert try transposing band music for the piano.
"I don't know how I did it — I just did it," Robert admits, laughing. "I was never really taught. That was how I learned."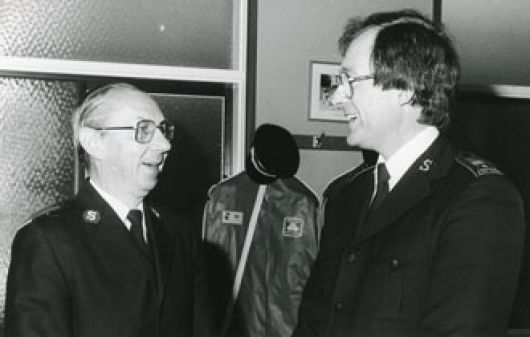 Robert, then bandmaster of the Canadian Staff Band, is reunited with Derek Salt in Sydney, Australia, in 1985..
Robert transposed many popular Salvation Army band tunes for two pianists, and began playing duets with Salt at corps throughout the Manchester area. He began composing his own brass music and transcribing scores by listening to popular records, such as the New York Staff Band's Banners and Bonnets.
Whatever he lacked in formal training, Robert made up for in passion and dedication.
"Because I was studying music on my own, I learned a lot of things the wrong way around," he says, "but in doing that I created my own composition style."
Choices
In his late teens, Robert moved to Southport, England, where he would make two decisions that would shape the rest of his life.
Robert first felt a call to Salvation Army officership when he was 14, but after finishing school, he went into banking. "I was doing very well and the bank was pushing me to do further studies, so I could become a bank manager," he says. "I had to make a choice."
Knowing officership was the right one, he quit his job and went to work at an office before going to the Army's training college.
Soon after making that decision, 19-year-old Robert made another, meeting his future wife, Gwenyth, at his corps.
"In those days in The Salvation Army, everybody wore a uniform, and she came to the Sunday afternoon meeting in a bright red coat," he smiles. "I thought, Oh, she's different!"
"That was my little bit of rebellion," says Colonel Gwenyth Redhead, who admits she was also wearing lipstick that day. "I remember one afternoon, this tall, gangly teenage lad stood up and gave his testimony, and I thought to myself, 'he's for real'. Robert stood out as an authentic Christian among many who, in that day and age, were not."
Though Robert's parents were initially sceptical of the non-uniform-wearing Gwenyth, the two fell in love and were married in 1965, after they'd both finished training college.
A renewed calling
The Redheads' first appointments took them into corps ministry, before Robert was appointed back to the training college, where he directed the music program and wrote music for the Army's centenary and the yearly commissioning weekends. But his time at the college came to a tragic close when his mother died and his father became gravely ill with cancer soon after.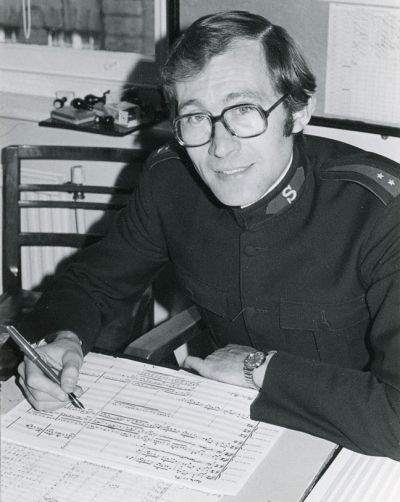 Robert Redhead composes music at the international music editorial department in 1975.
"We went to visit him at the hospital, and I felt the Holy Spirit tell me that his dad should come and live with us," shares Gwenyth. "When I told Robert, he was relieved, but when we got back to the training college where we were living, we realised, how could we bring a sick man here? And so with great reluctance, Robert went to the training principal and requested a change of appointment."
Coming to the music department at International Headquarters (IHQ) in 1971 should have been a dream appointment for Robert, but when his father died early that year, he almost left officership.
"I was ill for about three months, and nobody put together why – not even the doctor," shares Robert. "Basically, it was this enormous grief."
Though he emerged from his depression, Robert's sense of calling was shaken. "When I began to get better, I felt I should try something else, so I told the Army that we would pull out of being officers," he says.
The Army asked Robert and Gwenyth to reconsider, and offered them as much time as they needed to think it through. Meantime, Robert had applied for a position at an Anglican cathedral and was one of the final three candidates.
"I could tell from the way they were talking that I was going to get it," he recalls, "and it suddenly dawned on me: I was going to be an Anglican; The Salvation Army would be right off the book. At that moment, I realised that I should be an officer. So I went back to IHQ and said, 'If you'll have me back, I'm ready to go to work.' And that was it."
Robert returned to IHQ with a new sense of purpose. "Before, I'd always wanted to be a preacher. And there I was, stuck in an office, writing music, which is very nice, but what did it have to do with God?" he says. "I came back with a focus, knowing what I should be doing in that department: not just writing music, but making it meaningful."
Coming to Canada
After five profitable years at IHQ, the Redheads' next appointment was a pleasant surprise. "When the Chief of the Staff said we were going west, I thought west of London – not Canada!" Robert laughs.
From 1976 to 1985, Robert served as director of the Canada and Bermuda Territory's music department and bandmaster of the Canadian Staff Band (CSB).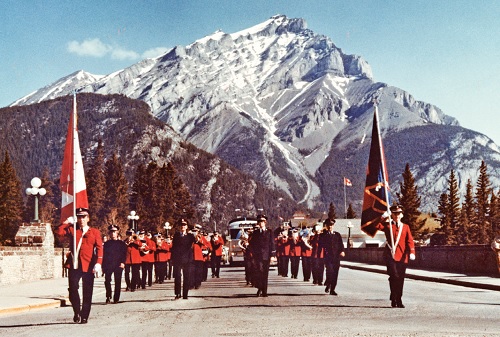 Marching with the Canadian Staff Band in the Rockies in 1978.
During that time, he and Gwenyth wrote two full-length musicals together – Chains of Gold and Ruth – as well as several shorter pieces.
The Redheads continued their pastoral ministry in their next appointment at Southmount Citadel in Vancouver. "We loved being pastors of a congregation," says Robert. "That's why we originally became officers."
That appointment became the inspiration behind Corpus Christi ("the body of Christ"), a major work composed soon after Robert was sent back to England to be bandmaster of the International Staff Band (ISB) in 1990.
Breaking barriers
The Redheads were sad to leave their corps, but saw that their new appointment was the right one. "The ISB needed a change," says Robert. "When we came back, the big thing in the Army, in banding, was the question of women in bands. It wasn't a problem in Canada, but in Britain, a good band wouldn't have a woman."
It was important to Robert that the person he chose to join the band would be an excellent musician, so that no one could claim she was a "token woman". The first woman in the ISB was Vanda Spence. "She was a very good trombonist," says Robert, noting that she was also a featured soloist.
Robert also broke down barriers between Salvation Army music and secular music, writing a test piece for a brass band competition in the UK. When Robert wrote Isaiah 40 in 1995, officers were not allowed to compose for non-Salvation Army groups.
"I wanted to write something that was religious, so that if people did read about it, it would say something to them," he says. "The Scripture, Isaiah 40, is very powerful and understandable."
Robert and Gwenyth with members of the Japanese Staff Band in Wellington, New Zealand, in 1998.
When the piece premiered at Royal Albert Hall in London in 1996, both Robert and Gwenyth were in attendance. "When I walked on stage at the end, in my uniform, that made a point," Robert recalls with emotion. "It was a very moving experience. And it brought the Army band world and the non-Army band world much closer together.
"Before, if a Salvationist joined a brass band outside the Army, they were immediately condemned. Now, hopefully, when a Salvationist plays in a non-Army band, they play as a Salvationist — salt and light."
Faithful composer
Robert and Gwenyth wrapped up their time as active officers with appointments in Canada, New Zealand and at IHQ, but decided to settle in Ontario in 2005. Along with leading his corps band and various specialling engagements, Robert continues to compose and has recently completed a piece called God is There, which was played by the five North American staff bands at a mass gathering in May.
"When people hear or play my music, I hope they feel that God is greater for them than he was before, that the music helps them see deeper, feel deeper," he says, "that at the end, they would feel, 'Yes, that was worthy'."
This article appears courtesy of salvationist.ca