Sargents Pies donate $1 million to Salvation Army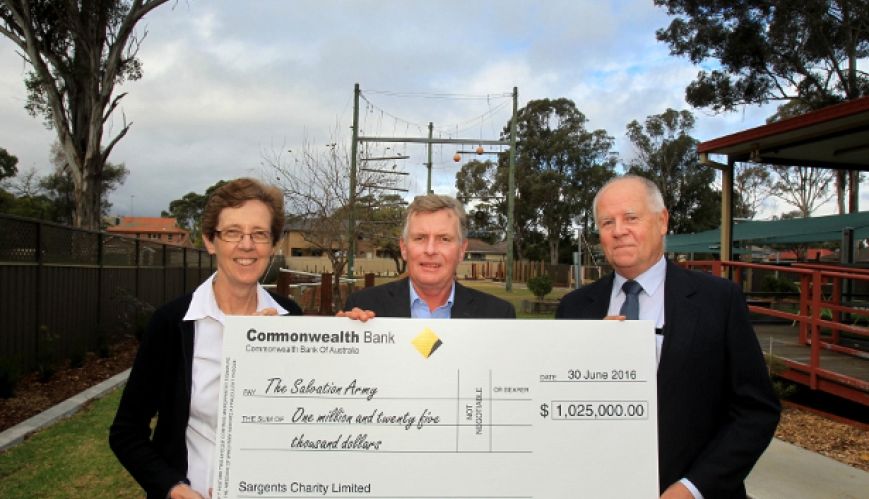 Sargents Pies donate $1 million to Salvation Army
13 July 2016
You don't get more Aussie than a meat pie and a heart for those down on their luck. Last week the two came together when Sargents Pies donated $1,025,000 to The Salvation Army.

The Sydney-based and Australian-owned company has had a long relationship with The Salvation Army, contributing $4.3 million directly since 2001, with this latest donation being the largest.

Logistics Manager for Sargents Pies, Mr Brian Andrews, said it was The Salvation Army's work with youth which prompted their ongoing support. "The Foundation continues the work started by the original owners, George and Charlotte Sargent, renowned for their charitable works. It is the programs run by The Salvation Army that help troubled youth in the western suburbs, where we are located, that we want to support. In particular, we've been involved in the Café Horizons at St Marys and the Youthlink programs, targeted to assist them to identify and achieve goals and skills to assist them in the life challenges ahead."

The Sargents Pies donation will be directed to The Salvation Army in three key areas. A donation of $500,000 will support the development of the newly established Salvos Communities of Hope projects in Greater Western Sydney, $25,000 will continue their support of the Youthlink programs at Blacktown, and a further $500,000 is for the Red Shield Appeal.

"The foundational concept of Communities of Hope," said Salvation Army spokesperson Major Peter McGuigan at last week's cheque handover at the Youthlink office in Blacktown, "is that long-term restoration from the damage done in people's lives can be experienced in only one place – community. The Salvation Army is well-known for its crisis intervention across so many areas including homelessness, domestic violence, addiction and disaster. But this can be an endless circle in people's lives – crisis to crisis – unless we empower them with new hope, restore their personal sense of worth and see them through to becoming contributing members of a community."

"Thank you to Sargents Pies for partnering with us to bring about this kind of transformation in people's lives and in our community," added Lieutenant-Colonel Miriam Gluyas, Divisional Commander of The Salvation Army in NSW/ACT.