You are here:
Home › News › 2016 › 11 › 25 › Cadets Graduate From The Salvation Armys School For Officer Training
Cadets graduate from The Salvation Army's School For Officer Training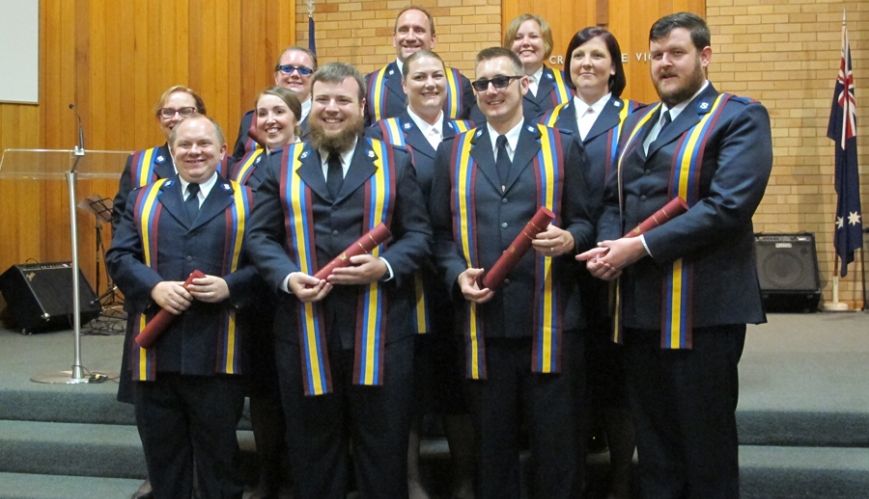 Cadets graduate from The Salvation Army's School For Officer Training
25 November 2016
The cadets of the Joyful Intercessors session have officially graduated from The Salvation Army's School For Officer Training. The graduation ceremony, held at Earlwood Corps on Thursday 24 November, saw family and friends of the 11 cadets gather to help them celebrate the conclusion of two years of study in preparation for ministry and mission.
Training Principal, Colonel Julie Campbell, opened the evening by thanking the cadets' loved ones for their support. "Thanks for the encouragement and thanks for the love and all that you've done for these men and women over the last two years … honestly, they probably wouldn't have gotten through without your support," she said.
Major Deborah Robinson, Assistant Training Principal, congratulated the cadets on their academic achievements before explaining the three stages of the training program: theological understanding, field training and spiritual formation.
Three cadets then shared about these different study areas. Cadet Anthony Hunt spoke about his studies in theological understanding, explaining how his theological perspectives were positively challenged by those with different opinions.
"While studying theology I saw how two people could read the same text and come to different conclusions about the nature of God but still be friends," he said. "The same Bible but a different lens to look through."
Cadet Ayly Girling shares her experiences with field training.
Cadet Ayly Girling shared her learnings from field training in corps and centres across the territory, focusing on the challenges she faced at her three-month out-training at Greater Liverpool Corps.
"Although I initially felt overwhelmed and inexperienced in that setting, the more I made myself open to God and available to the learning experience, the more I learnt to trust in who God is – a God who gave me the capacity to learn and to thrive," she said.
Cadet Lloyd Stanimirovic then spoke about his journey with spiritual formation, when faced with a rare form of meningitis earlier this year. He shared how various prayer sessions and retreat days at the college gave him the strength to battle the disease.
"As I took time out on that retreat day, just sitting and reading the scriptures that had been set out for us, I felt God speak to me through Psalm 91," he said. "It told me that God was my refuge in whom I must live my life. The Lord has rescued me and in my battles it is his strength that will uphold me in the future."
Dr Arseny Ermakov (middle) with the Joyful Intercessors and the School For Officer Training staff.
Head of Biblical Studies at Booth College, Dr Arseny Ermakov, was the guest speaker at the graduation service. He talked about how the graduation certificate represented two years of hardships, growth, relationship building, spiritual experiences and skill development. He then challenged the cadets to take what they had learned at college out into their ministry work.
"Live up to the high calling, to serve God's people, proclaim the gospel of God's kingdom and participate in God's mission in this world," he said.
Colonel Campbell then presented the cadets, who will be officially commissioned as Salvation Army officers in Brisbane on Sunday, 4 December, with their graduation certificates.
Director of Spiritual Formation, Major Alwyn Robinson led the congregation in worship throughout the ceremony, concluding the service with Your Grace is Enough before Colonel Campbell finished with a benediction.
Tune into mysalvos.org.au/Commissioning on Sunday, 4 December at 10.30am (AEST) and again at 2.30pm (AEST) to watch via live stream the Joyful Intercessors be commissioned as Salvation Army officers.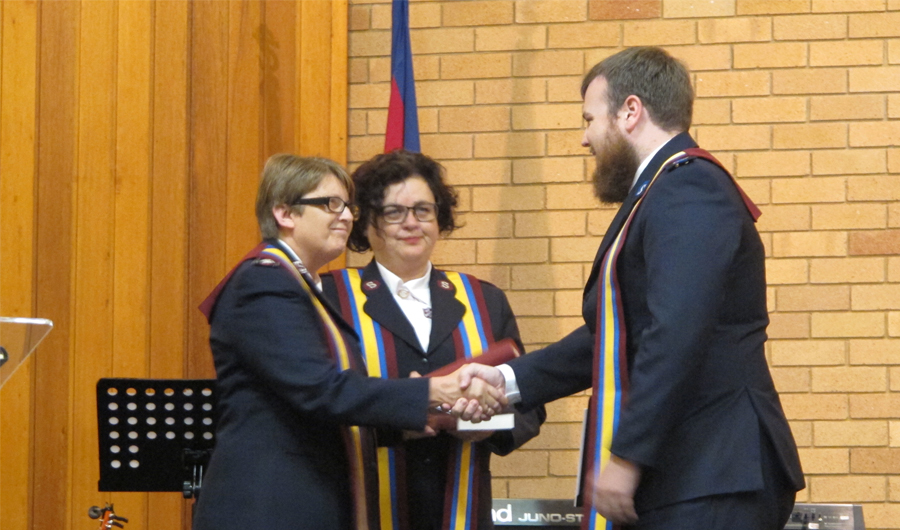 Colonel Julie Campbell presents Cadet Zak Churchill with his graduation certificate.