Historical society still going strong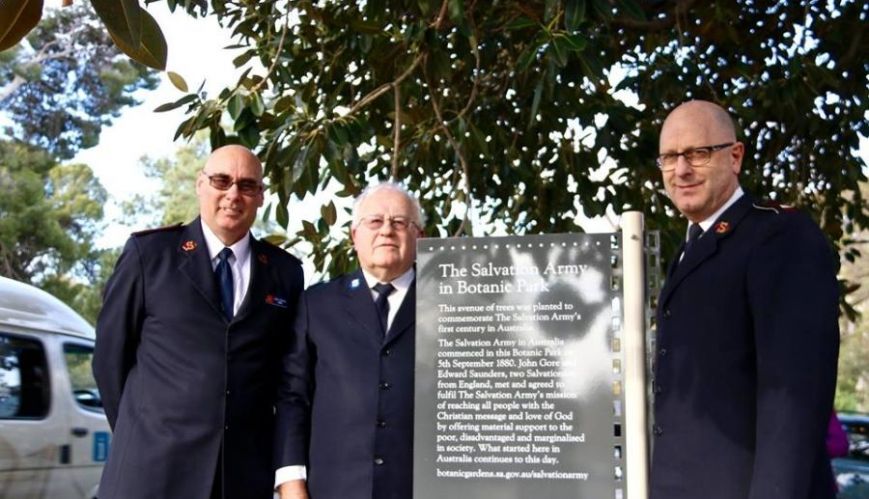 Historical society still going strong
30 August 2019
(From left) Major Clint Castley, then South Australia Divisional Secretary; Graeme Denholm, President of the Historical Society South Australia Chapter; and Lieutenant-Colonel Ron Clinch, then Divisional Commander stand next to a sign in the Adelaide Botanic Garden that is funded by the South Australia Chapter of The Salvation Army Historical Society.
By Simone Worthing
Keeping history alive and promoting current Salvation Army activities has been the focus of the South Australia Chapter of The Salvation Army Historical Society for the past two decades.
Founding and current members celebrated the 20th anniversary of the chapter at its annual general meeting earlier this month.
Lindsay Cox, Australia Territory Manager of Salvation Army Museums, was the guest for the meeting. He spoke about the beginnings of The Salvation Army in Australasia, with a focus on events in Adelaide. Lindsay also showed the original letter, signed by Salvation Army founder William Booth, that commissioned Captains Thomas and Adelaide Sutherland as the first officers of Adelaide Congress Hall.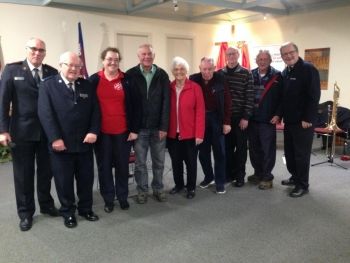 Divisional Support Officer Major Castley (left) with chapter Executive Members.
In 1999, then Major Vic Poke (now promoted to glory), called Salvationists in Adelaide and throughout South Australia to form a chapter of the historical society, which began with Graeme Denholm as president.
Twenty years later, Graeme is still president, with more than 100 members on the chapter's roll. Between 30 and 40 members attend the quarterly meetings.
"Our members include Salvationists as well as others not specifically connected with the Army," said Graeme. "Our executive committee is dedicated and long-serving.
"We have a great time and expand people's knowledge of history, but also keep them updated on current Salvation Army ministries and upcoming activities with our guest speakers."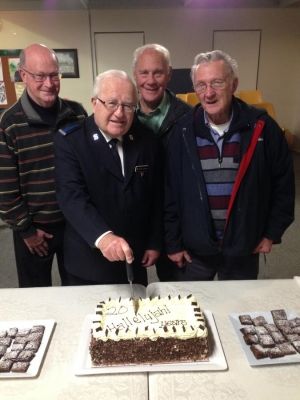 Chapter President Graeme Denholm cuts the anniversary cake.
Future guest speakers include Major Darren Cox, Corps Officer at Gawler (one of Adelaide's first corps); Captains Gai and Peer Cathcart, Red Shield Defence Services representatives in South Australia; and Captains Shane and Sarah Healey, Adelaide Congress Hall Corps Officers.
In 2015, the chapter helped fund a freestanding sign in Adelaide Botanic Garden, where The Salvation Army started 135 years ago to that date, that features the Red Shield and highlights Army beginnings.
"As well as its historical significance, this sign also reflects the ongoing care The Salvation Army has for people and its work in the community," said Graeme.
The group produces a quarterly newsletter, The King's Messenger, which mainly serves as a historical record and documentation of Salvation Army activities in South Australia, with national and worldwide events also included.