IN BRIEF: Snapshots from around the territory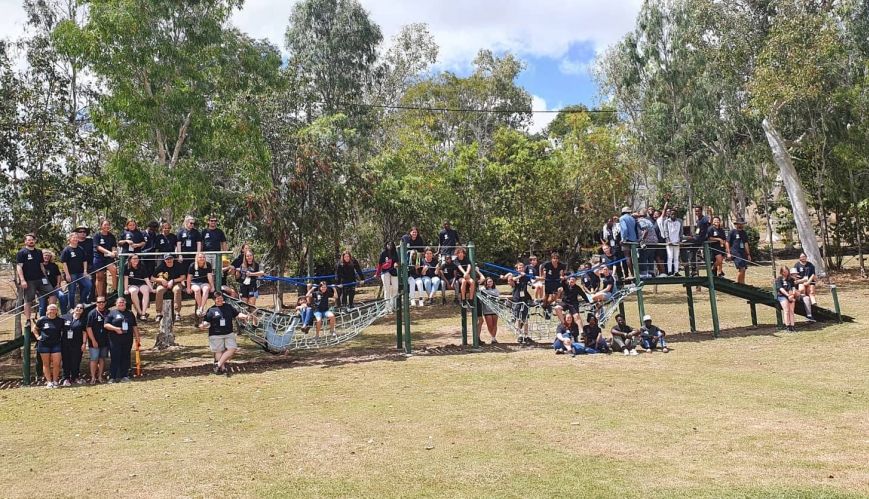 IN BRIEF: Snapshots from around the territory
15 October 2021
Campers and leaders gather on an obstacle course at Proserpine's Camp Kanga on the final day of the inaugural Equip Northern youth camp in Far North Queensland.
By Others writers
---
Camp equips youth with fun and fellowship
Cairns crew: (from left) Caitlin Dobbie, Novalee Paterson, Phoebe Johnson, Lalai Geno and Narrah Gumuna having fun serving afternoon tea at Equip Northern.
About 50 young people from as far afield as Mt Isa, Cairns, and Bundaberg attended the Queensland Division's first Equip camp for youth in the state's Central/Far North region. Held over six days at Camp Kanga in Proserpine, 'Equip Northern' ended up being the only youth camp the Army could run across Australia due to COVID-19 restrictions and lockdowns.
"The camp was a massive success with God moments and experiences everywhere," said Auxiliary-Lieutenant David Dobbie, the Queensland Youth and Young Adults Secretary. "The whole week blessed by God."
Workshops covered worship leading and music, audiovisual ministry, and creative prayer. Other sessions were entitled 'What the Salvos ...!' (where "lots of questions" on the Army were answered), 'Bible and Beyond', 'Use your Words' and "improv comedy".


Another popular workshop was 'Hospitality', hosted by a team from Fassifern Corps (South-East Queensland), who travelled to Proserpine to give campers some basic hospitality and food preparation skills – all done from a Salvation Army Emergency Services (SAES) catering truck loaned from Townsville.


Having the SAES truck on-site allowed campers to experience "other ways of serving", David said. "Obviously, up in this part of the world, something happens probably every year [that the SAES is called to], so we were trying to equip the young kids to know what ministry can look like and the possibilities."


The camp theme was 'Somewhere for Us', which David said was part of the Army's national focus for the year where "the youth of our country know that there is a place with them at the table. It doesn't matter who you are or where you come from, Jesus prepares a place for you."


Major Gavin Watts, Queensland Divisional Commander, flew in on the Saturday afternoon of the camp to participate in the remaining activities of that day and be involved in the worship service on Sunday morning.


---
Hamilton Thrift Store deserves a medal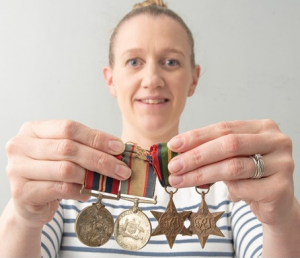 Malinda Schultz, who manages the Hamilton Thrift Store, discovered these World War One medals belonging to Norman Annett while sorting through donations.
Salvation Army thrift store volunteers regularly come across unusual donations, but a discovery at the Hamilton store in Victoria took everyone by surprise. Store manager Malinda Schultz was sorting through some donations when she found several World War One medals hidden inside a book. With a bit of detective work, thanks to a serial number on the medals, she eventually found a name.
"We were able to find out his name was Norman Annett, and he was born in Warracknabeal, and that he had a brother, William, and a sister, Evelyn," said Malinda. After some further investigation (with a bit of help from Facebook!) Malinda discovered that both Norman's siblings and his mother were buried in the local Hamilton cemetery. Unfortunately, Malinda was not able to locate any living descendants.
Unable to pass the medals onto any family, the thrift store readily donated them to the Hamilton RSL. "It's been a fantastic response from the community, and without some of their leads, we wouldn't have [worked it out]," said Malinda.
---
Divisional leaders join retreat in Top End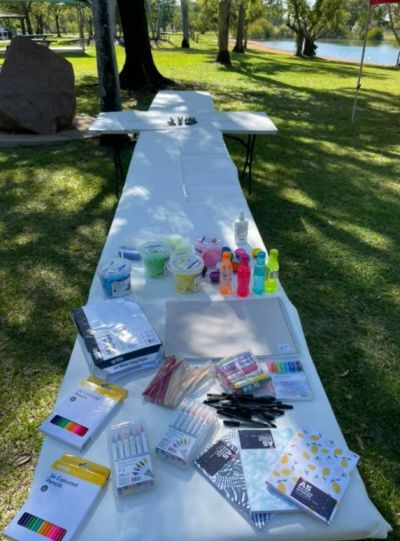 Tables in the shape of a cross formed the centrepiece of the Top End Area Leadership Team Retreat Day.
Majors Lance and Anne Jeffrey, leaders of the South Australia/Northern Territory Division, attended the Top End Area Leadership Team (ALT) Retreat Day in Darwin on 23 September.
Area Officer Captain Erica Jones said the Jeffreys joined other ALT members and representatives from various mission expressions in Darwin on the retreat beside Lake Alexander at East Point for a time of contemplation and reflection.
Erica said the retreat was to have been held to coincide with the launch of the Territorial Prayer Focus initiative, which ran from 22 August-12 September, and at the same time as their counterparts in South Australia, but a 72-hour lockdown in the Northern Territory capital forced it to be postponed.
The retreat was organised by Erica and Vicki Aitken (Towards Independence Program Top End case worker), with a special booklet produced to guide participants through various activities. Erica said participants took part in several activities, including "progressive muscle relaxation", shared silence, Bible text focus, the ancient monastic practice of Lectio Divina, contemplative photography, beach and lake walks, imagination prayer segments and journalling.
The event ended with a meal and the invitation to participate in a scripture-writing exercise. "We took time to write on a 'cross table', with scriptures being written on the vertical beam representing our relationship with God and the horizontal beam representing our relationship with others," Erica said.
---
Tassie corps receives mental health award
Captain Jeff Milkins accepts the Tasmania Mental Health Advocate of the Year Award on behalf of the team at Glenorchy Salvos.
Glenorchy City Corps in Hobart has won the Mental Health Advocate of the Year Award for Tasmania. "This award is in recognition of the work our entire team does," Corps Officer Captain Jeff Milkins emphasised. "I am the public face of the team. My wife, Jacqui, our Doorways [emergency relief and case management] team and church team all do some amazing work, and I accepted the award on their behalf."
Each year, during National Mental Health Month (October), the Mental Health Foundation Australia celebrates people and organisations working hard in raising awareness and stamping out the stigma surrounding mental health.
The team at Glenorchy City Corps has worked hard in Hobart's north to build relationships with people experiencing homelessness, those struggling with substance misuse and others who need assistance. As well as Doorways, they also offer laundry and shower facilities, community meals and a drop-in space. "We just want to keep serving in our community and caring for those who need caring for," said Jeff. "This is our aim every single day."
---
Behind Gambling Harm webinar


Gambling Harm Awareness Week is being held from 18-24 October this year, with the theme of Talk.Share.Support. The Salvation Army is taking the message nationally to encourage people to talk about the harms associated with gambling and their effects on communities, families, friends, workplaces, and individuals.
As part of the week, a free webinar, 'Behind Gambling Harm – comorbidity and neuroscience', will be held on Tuesday 19 October from noon-1pm.
Guest speakers will be Prof. Dan Lubman, addiction medicine specialist and clinical director of Turning Point, highlighting the neuroscience behind gambling harm, and Sue Rosenhain, health promotion manager at Women's Health in the North. A lived-experience speaker, Stuart, will offer his insights and Aria award-winning singer/songwriter Adrian Eagle will perform.
The webinar is being presented by Gambler's Help City, a program of The Salvation Army. Register here
---
Tri Territorial webinar to focus on intercultural mission
Adrian Kistan will be the keynote speaker.
Registrations are being taken for the third and final 2021 Tri Territorial virtual series webinar. The session, scheduled for Thursday 28 October at 5pm AEDT, will focus on intercultural mission.
The keynote speaker will be Adrian Kistan, the Army's National General Manager, Mission Inclusion. Adrian will speak with firsthand knowledge on the importance of intercultural mission, having migrated to Australia from South Africa as a child with his family.​​​​​​​​​​​​​​
The interactive webinar will consist of a 40-minute keynote, followed by a Q&A time at the end. Register for the event here
---
Murray Bridge Corps marks centenary of service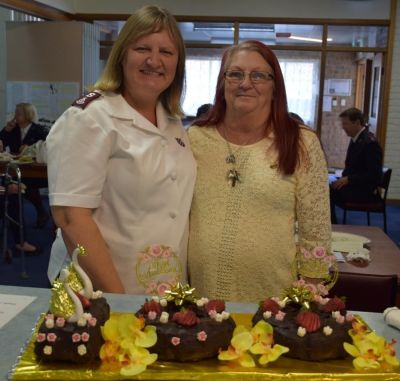 South Australia/Northern Territory Divisional Officer Personnel Secretary Major Anne Jeffrey (left) and newly enrolled Murray Bridge Corps adherent Karen Strauss with the cake Karen made especially for the centenary celebrations.
A tree-planting ceremony was one of the highlights of the 100th-anniversary celebrations at Murray Bridge Corps in South Australia last month. Mayor Brenton Lewis planted a council-chosen ornamental pistachio tree in front of the corps building as part of a weekend of events and services to mark the centenary.
Among other guests over the weekend were South Australia/Northern Territory Divisional Leaders Majors Lance and Anne Jeffrey and Area Officer Major Dean Clarke. Murray Bridge Corps Officer Captain Claire Watson said a Saturday afternoon event was held to thank God for his goodness over the years and to pray for healing and renewal.
Claire said about 50 people met for a worship service of celebration on Sunday morning, during which Brenton shared insights about the city, and Lance gave a message based on Isaiah 61. Karen Strauss was enrolled as an adherent and Theodore Freund as a junior soldier during the service. The celebration was followed by lunch at which a special cake made by Karen was served.
---