THQ building ushers in new season of unity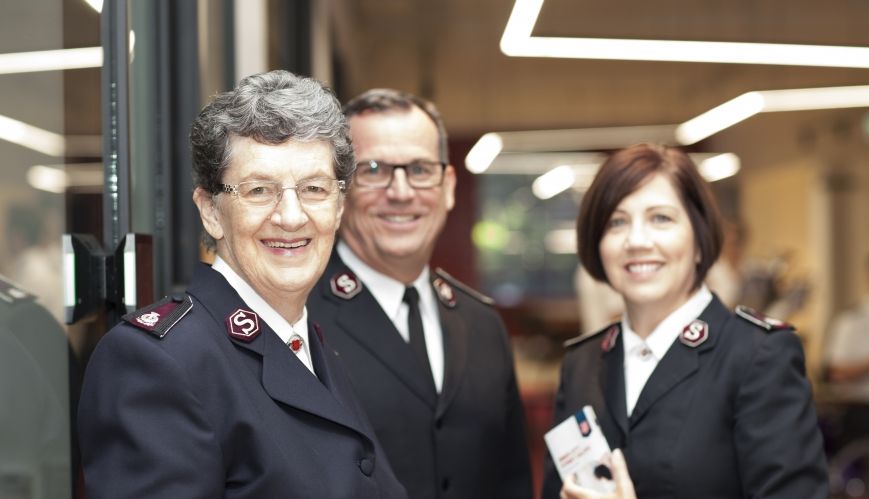 THQ building ushers in new season of unity
9 May 2016
It was a historic day for The Salvation Army on 2 April as the new Australia Eastern Territorial Headquarters was officially opened. Salvationists, officers, employees and volunteers gathered at the newly renovated building at 261-265 Chalmers St in Sydney's inner-city suburb of Redfern to celebrate this milestone. Australia's recently announced national leaders, Commissioners Floyd and Tracey Tidd, and Chairman of The Salvation Army Advisory Board, Roger Corbett, were some of the guests who attended the opening.
Australia Eastern Chief Secretary, Colonel Mark Campbell, made some opening remarks before a Welcome to Country acknowledgement was given by Indigenous elder, Uncle Allen Madden. The Sydney Youth Band and vocal soloist Madeline Muir led the congregation in the national anthem and hymn, To Worship, Work and Witness. Territorial General Property Manager, Peter Alward, delivered a building report to celebrate the 10-year journey, which encompassed reviewing multiple new headquarters options, the Redfern building purchase in early 2014, and the refurbishment of the complex.
About 410 tonnes of concrete was removed during the renovation process and 110,000 hours has been put into preparing the former South Sydney Leagues Club site to be the Army's new headquarters. As well as being a leagues club, the 50-year-old building has previously been a paint factory and has even hosted boxing matches during its lifetime. The new territorial headquarters occupies three floors of the building feature | territorial headquarters opening words esther pinn photos shairon paterson while South Sydney Leagues Club and Woolworths will continue their tenancy of the other two floors in the complex.
"This is a real historical milestone for the Army of the refurbishment of this building," said Peter. "It's a new beginning, a new season of moving forward together in this new community of Redfern. It's our community. It isn't about this building, it's about coming together in unity as teams come together, to work together, to transform and equip generations for Christ – that's what we're here for."
Peter then thanked the architect firm Bates Smart and construction group Grindley for their work in building the Army's new office space. Salvation Army Property Manager, Craig Redfern, was honoured for his involvement in the building process and Commissioner Jan Condon was presented with flowers for her role as Chair of the Relocation Steering Committee.
A video was played revealing a snapshot of the work of the Army throughout the territory. School For Officer Training Principal, Colonel Julie Campbell, then gave a scripture reading from Psalm 127, followed by a message from Territorial Commander, Commissioner James Condon. He reflected on the importance of building the Army's new house for transformation, with God at the head.
"In case you didn't realise it, The Salvation Army is into building, rebuilding and transformation," he said. "This building, the former South Sydney Leagues Club, has been transformed to fulfil a very different purpose. Unless God is in this, we will fail. That's simply what God said to me by his spirit as I reflected upon that one verse of scripture ... I see a God-raised, spiritfilled Army of the 21st century, convinced of its calling, moving forward together into the world of the hurting, the broken, the lonely, the dispossessed and the lost, reaching them by all means of the transforming message of Jesus."
Commissioner James Condon then officially opened the new territorial headquarters by unveiling a plaque. Commissioner Jan Condon concluded the service with a prayer of dedication. Guests were then taken on tours of the new building, led by members of the Army's property team. Those present were also invited to write their names on stones that were placed inside a wooden cross, which will hang in the new territorial headquarters chapel.
About 400 employees and officers moved into the new complex on 11 April.
Photo gallery: inside the new complex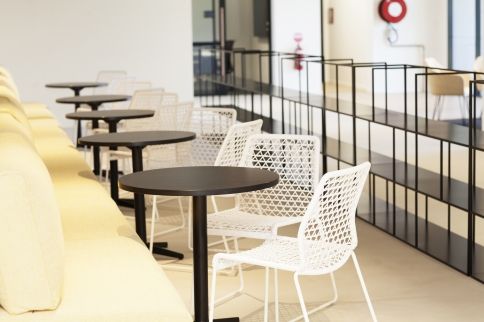 Accommodating 400 staff, the new Salvation Army Australia Eastern Territorial Headquarters has been fittedout with modern furnishings and cuttingedge technology. In addition to assigned desks, there a number of "hot desks" available for employees and officers, with some located in quieter areas. There are 23 meeting and focus rooms, eight large boardrooms, three conference rooms and numerous breakout-areas where people can meet. Wireless internet is accessible across the building and other modern technologies, such as interactive walls, are located in meeting areas.
There are two "tea-point" areas on each floor fitted with microwaves and fridges. There are a number of areas, including multiple balconies, where individuals can sit during their lunch breaks. People will be able to purchase a coffee or meal at the level-two café, run by Freedom Catering. A chapel is located on level one and the building has 112 underground car-parking spaces.
Photo gallery: view more photos of the new territorial headquarters HERE.