Salvos Yoga - stretching the body and spirit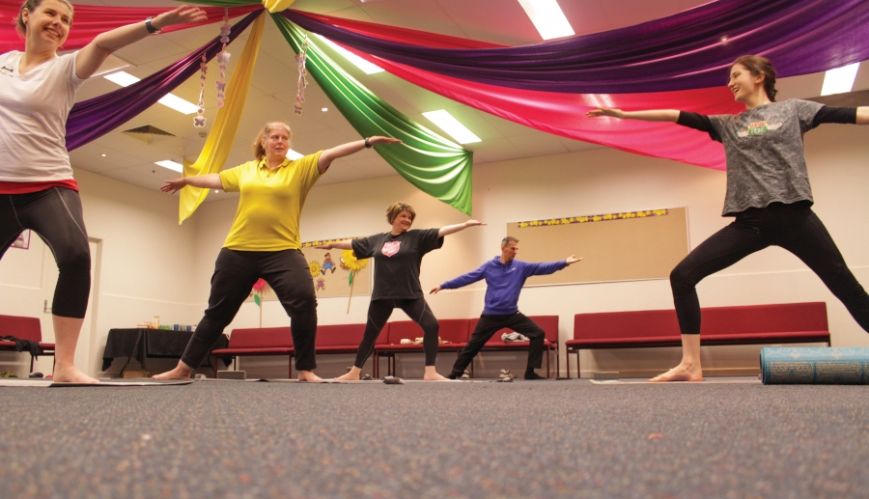 Salvos Yoga - stretching the body and spirit
26 August 2019
The classes opened to the community this month and is facilitated by Olivia, a qualified instructor and part of Melbourne Salvos Project 614 community.
By Faye Michelson
Salvos yoga-style stretching classes started this month in three Salvation Army corps in Melbourne, providing an opportunity to take time out from the busyness of life.
After a friendly greeting from the instructor and her assistants, people choose a place to roll out their mats, waiting for the session to start. Contemporary music plays quietly in the background as the instructor leads her class through gentle to medium-level stretching, followed by guided Christian meditation. When the class finishes, they are invited to stay for a chat and have a cup of Fairtrade organic tea.
The stretching classes are an activity that might not immediately be identified with The Salvation Army but, as chaplain Les Smith observes, this is about developing relationships. He and instructor Olivia Smith want the classes to be a safe, reflective space where people can step outside their busy lives for an hour or so.
"While yoga itself has many benefits, we are trying to build the less tangible stuff, such as a space that is relaxed and accepting, and where friendships develop naturally," Les says. "It's all pretty relaxed."
The concept of evolved after The Salvation Army Crossroads family violence service and the chaplaincy team trialled a similar project last year for women and children living in a refuge.
"Our workers and chaplains saw many benefits for the women who participated," Les says.
"For many, it was the first place of 'peace' they'd experienced during the turbulent time they were going through. After a stretching session, they often appeared calmer and more connected with their children. It was a place where they were able to gain resilience, refocus on the challenges ahead and begin to rebuild their lives."
The women's feedback sheets reflected this, with comments that the stretching and Christian-based meditation classes helped them to "focus on something other than their immediate situation", provided "an opportunity to just stop" and helped them to "think with better clarity". Les says participants often stayed back after their classes to talk with their instructor.
"Sometimes it was just about having someone removed from their situation to talk to, but there were also many informal conversations around faith and spirituality," he says.
The classes opened to the community this month and are facilitated by Olivia, a qualified instructor and part of Melbourne Salvos Project 614 community. She has taught privately and at YMCA centres, and has completed trauma-sensitive training.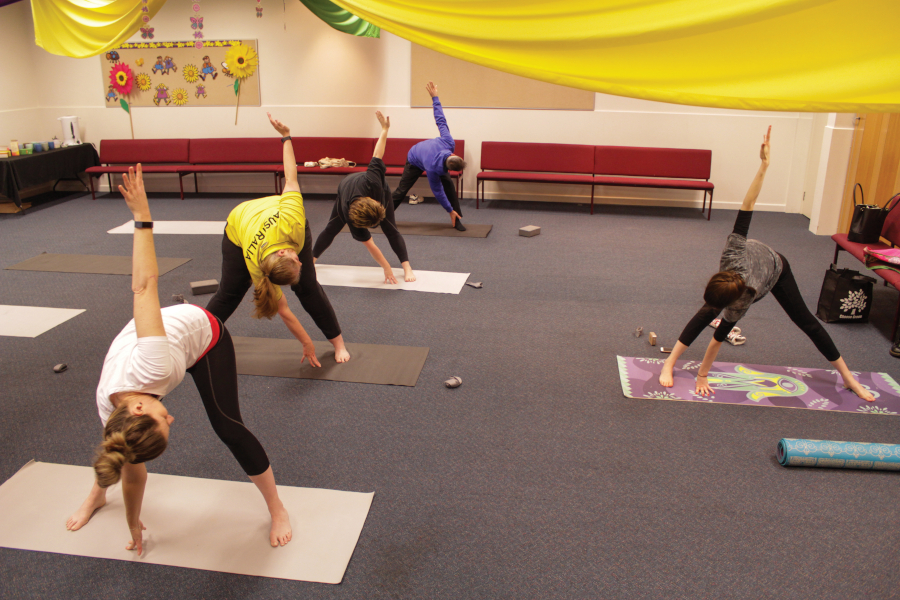 "I started yoga when I was going into Year 12 and found it helped me to deal with this stressful time," she says.
"I not only wanted to learn more about it, but I also wanted to provide that same service and courtesy for others who may be struggling with the effects of everyday life."
In 2017, Olivia took classes at a Salvation Army chaplains gathering, asking for feedback so she could develop a Christian-based yoga-style session. Since then she has worked on an approach that is generic enough for the general community but which also integrates the teachings of Jesus. Her classes are designed to be flexible enough to cater to people who already have yoga experience as well as those trying her interpretation of it for the first time.
The exercise component involves gentle to medium stretching and uses Christian symbols to facilitate the meditation and prayer elements. Les says the meditation focus will rotate around themes from the Bible book of Galatians (chapter 5) about the fruits of the Holy Spirit – love, joy, peace, patience, kindness, goodness, faithfulness and gentleness.
"Jesus taught the need to come aside and pray and throughout his ministry he often withdrew from what was going on around him so that he could renew his mind and his spirit through prayer," Les says.
"The practice of prayer and meditation goes back to before the time of Jesus; it is part of our tradition."
The classes are held at Reservoir Salvation Army Corps on Fridays at 9.15am and at Moreland City Corps at 1.15pm. For more information, contact 0438 103 465 or visit salvosyoga.com.au
This is an edited version of an article that first appeared in the WarCry.