You are here:
Home › News › 2021 › 08 › 25 › Aged Care Residents Thank Staff For Around The Clock Care
Aged care residents thank staff for around-the-clock care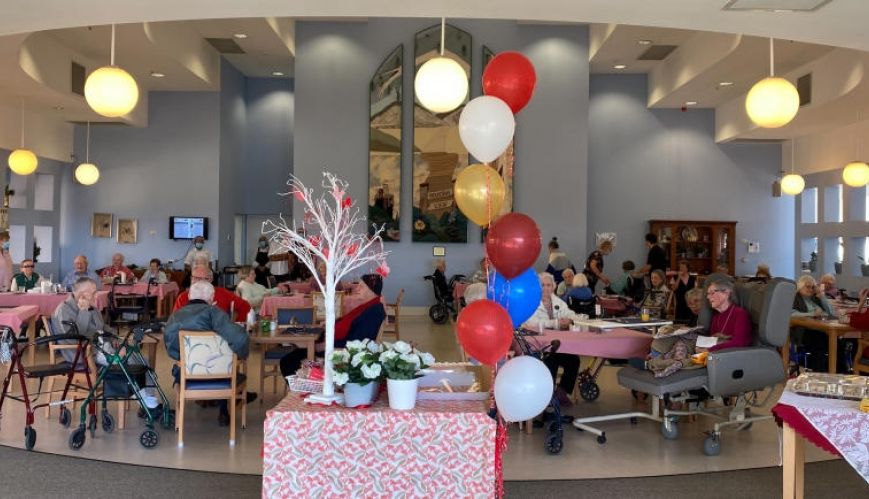 Aged care residents thank staff for around-the-clock care
25 August 2021
Residents of The Salvation Army Mountain View Aged Care Centre at Narrabundah in Canberra gather on Aged Care Employee Day to celebrate the commitment and care they are given around the clock each day.
By Darryl Whitecross
Coverage on morning breakfast television, messages from celebrities and senior leadership and encouraging words shared on posters were all part of the experience for The Salvation Army Aged Care staff across Australia on Aged Care Employee Day last month.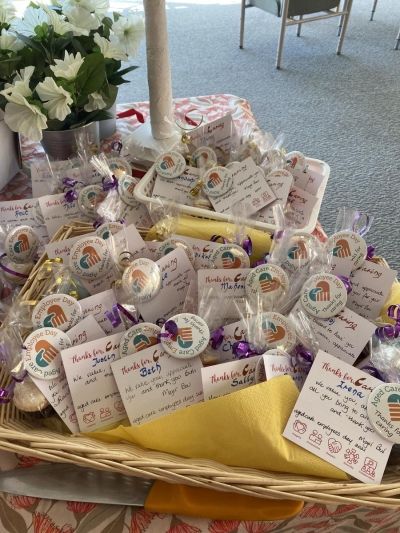 A basketful of support from residents to staff of The Salvation Army Aged Care centres on Aged Care Employee Day.
Collectively, the more than 2000 Salvation Army Aged care staff across the country – including officers, management, registered nurses, lifestyle teams, administration support staff and volunteers – were recognised in more than 500 messages of support on the day from residents, clients and others in the community.
Many of the messages were shared on posters and put up around the residential aged care centres, among other decorations. Special morning teas and suppers were served at several centres to cover the various shifts, while at other centres, an evening meal was prepared for staff.
Aged Care Employee Day was introduced in 2018 to recognise the estimated 365,000 staff involved in caring for about 1.3 million older Australians receiving home care or residential aged care services.
Across Australia, the Army has 21 residential aged care centres and seven retirement villages. It also provides in-home and community care services.
Staff appreciated the recognition more this year, given the context of the COVID-19 pandemic.
Salvos Studios created two videos for the day. Actor Ray Meagher, from the television show Home and Away, Channel 10 reality TV show host Beau Ryan, radio presenters Dave Hughes and Erin Molan, and James Tobin, Monique Wright, Sally Bowery and Matt Doran from Channel Seven's morning show Sunrise recorded messages of appreciation.
Australia Territory Chief Secretary Colonel Winsome Merrett, The Salvation Army Aged Care National Director Stephen Macliver, its Mission and Chaplaincy Manager Major Steven O'Neill and Human Resources Business Partner Sam Morton also recorded messages.
Mountain View Aged Care Centre registered nurse Sunita Gurung turned up for work on Aged Care Employee Day in her Nepalese traditional dress.
A performance recorded earlier this year by singer/songwriter Samantha Jade at the Army's Linsell Lodge in South Australia was shown on Sunrise on 8 August.
Stephen Macliver said the day had a "special significance" this year following one of the most "turbulent and testing times any of us have encountered" with the pressures and changing landscape the COVID-19 outbreak had caused: "Never has there been a more challenging time to work in aged care," Stephen said.
Steven O'Neill said the dedication and commitment of staff ensured the Army's mission to such vulnerable people was able to continue "every day".
"Staff have continued to engage with residents and clients in supporting their personal care and clinical needs, as well as social connection," Steven said. "Catering, cleaning, laundry staff and contractors also have a key role in maintaining our services."
He said chaplains continued to provide pastoral, spiritual and emotional support to residents and staff. "All staff have played a role in keeping our residents and clients safe but, above all, connected."
At Mountain View Aged Care Centre at Narrabundah in Canberra, Aged Care Employee Day was a non-uniform day, with staff members encouraged to wear their cultural dress.
Registered nurse Sunita Gurung, who wore her traditional Nepalese dress, said she felt "acknowledged and appreciated for her work".